Added to Cart
Product Title
Variant Title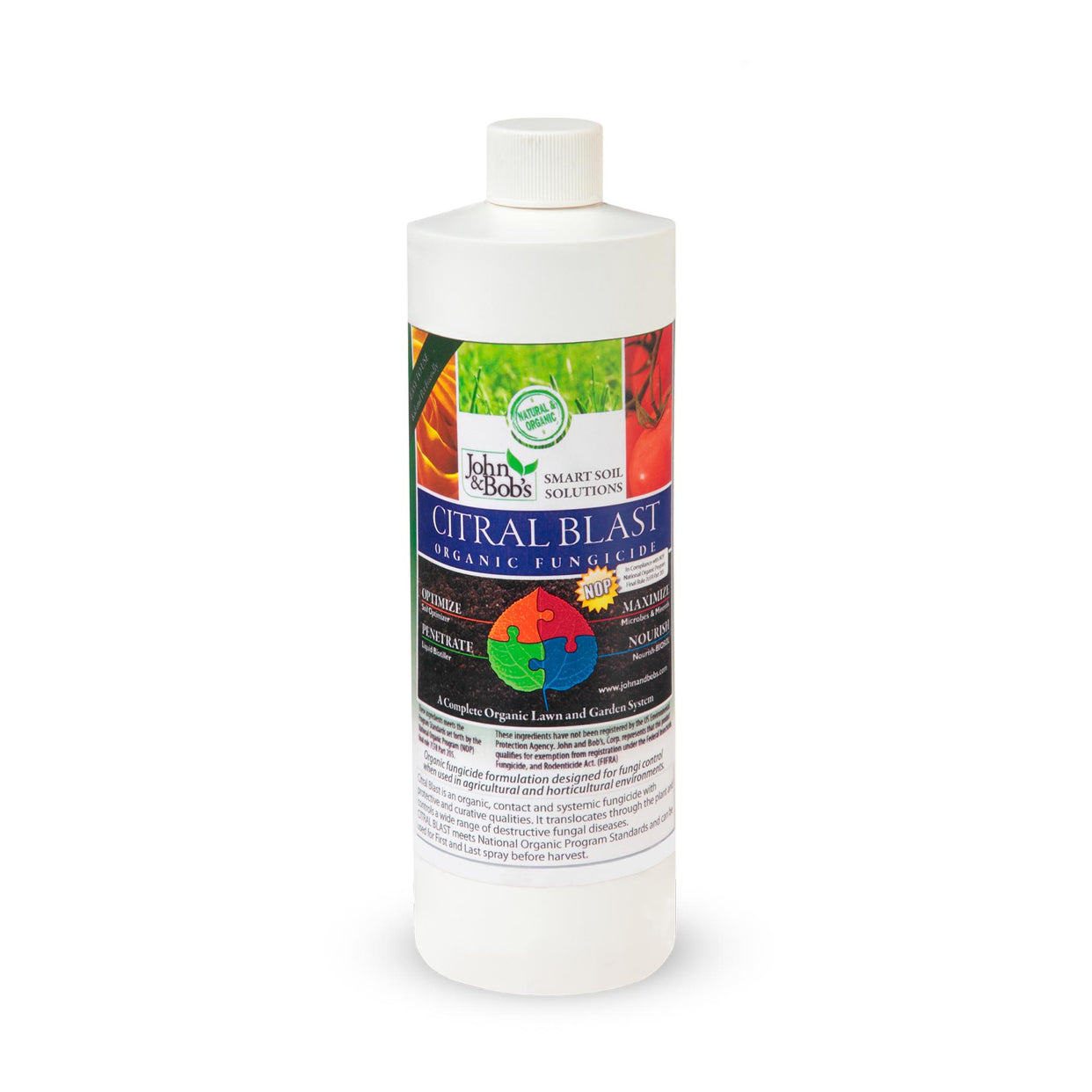 Citral Blast
Safe and effective organic fungus control.
Citral Blast an organic fungicide, designed to combat common fungal diseases, mold and rust in various crops and ornamental plants. It is formulated for regular use to rid plants of disease and prevent disease from recurring. This organic fungicide spray is easy to apply: just spray onto any affected plants whenever fungal disease is present or suspected. It works with organic, living soil to help grow healthy plants.
Specifications
Effective for the following uses and crops:
Asparagus
Brassica Crops
Bulb Vegetables
Cereal Grains
Rice
Citrus
Coffee
Cotton
Melons
Nursery Stock
Cover Crops
Alfalfa
Clovers
Grasses
Vegetables
Nut Trees
Peanuts
Pom Fruit Trees
Fruits and Berries
Fruit Trees
Turf Grass
Ornamentals
Effective against the following diseases
Controls a wide range of destructive fungal diseases such as:
Septoria
Fusarium
Phytophthora
Pythium
Erysiphe
Rhizoctonia
Pseudocercosporella
Sclerotinia
Altenaria
Cylindrosporium
Cercospora
Uncinula
Botrytis
Cladosporium
Venturia
Podoshaera
Manilla
Active ingredients:
Garlic Oil: 23.00%
Soy Oil: 5.00%
Lemon Grass Oil: 1.00%
Thyme Oil: 0.50%
Other Ingredients:
Water, Citric Acid, Humic Acid (from Leonardite) Lecithin: 70.5%
Application
Repels and kills all common types of fungus, including blight, mold, rust and powdery mildew
Works on vegetables, fruit trees, as well as ornamental shrubs and trees
Made with natural, organic ingredients that work with the soil
Works alongside our Soil Solutions products to help plants to thrive
Supports beneficial soil microbes that help fight plant disease.
Meets National Organic Program Standards
Non-toxic, kid and pet friendly, and totally safe to use and handle
Directions for use:
Shake well before using
Use 100oz of Citral Blast mixed with 50gal of water per acre or 2oz per gallon for small tank sprayers
Application:
Spray solutions should be used within 8 hours of mixing.
Spray until plant surface is wet but not to runoff
Frequency:
Apply when fungi are anticipated but when plants are dry.
May be repeated after 14 days or after rain when plants are dry
Storage:
Store in a cool, dry place away from sunlight
Store between 40 and 95 degrees
Customer Reviews
07/02/2023
Anonymous

United States
Citral Blast - It does the Job!
Excellent spray …. Another John & Bobs product that works as advertised! You group is the best!