Added to Cart
Product Title
Variant Title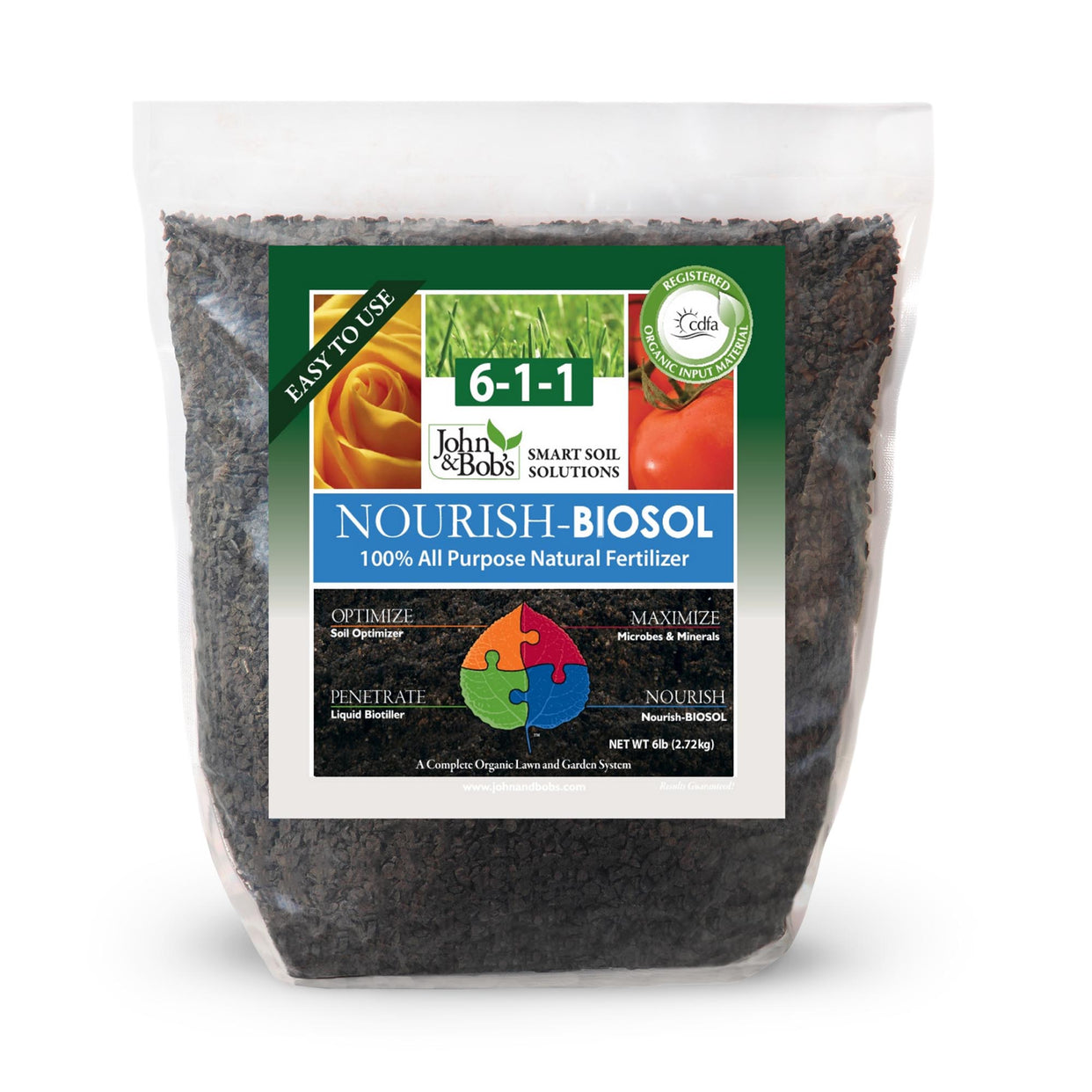 Nourish-Biosol
Fast-acting premium organic fertilizer
Nourish-Biosol is a fast acting organic fertilizer that works quickly to feed all types of plants and the soil beneath them. Nourish is made from organic vegetable ingredients that add to the health of the soil while it gives your plants the micronutrients they need to thrive. This organic soil amendment works on lawns, vegetable gardens, ornamentals and more! It's a fast-acting all-purpose fertilizer for every yard and garden.
Specifications
Size/Coverage:
6 lbs. (1,000 sq. ft.)
24 lbs. (4,000 sq. ft.)
50 lbs. (8,000 sq. ft.)
Details:
Made from 100% vegetable sources
Composed of recycled, fermented plant matter
Feeds beneficial soil bacteria
Works well when mixed with Maximize, Optimize and Penetrate
Ingredients:
Derived from fermentation of Soybean meal, cottonseed meal, sulfate of Potash magnesia.
Download SDS Sheet
Application
Broadcast over soil or lawns by hand or any rotary spreader, water into the soil. Apply twice a year.
Mix all three dry products (MAXIMIZE, OPTIMIZE, and NOURISH) together, right before applying, for easier distribution.
For faster results, thoroughly wet the soil after application.
Nourish-Biosol will never burn plants and will not harm the soil if over-applied.
Nourish-Biosol can be applied right on top of mulch and existing plants.
6 Tablespoons for a vegetable start or small indoor or outdoor plant.
PER SMALL PLANT OR START
PER YOUNG TREE OR SHRUB
PER LARGE TREE OR SHRUB
PER 180 SQ FT
1/4 CUP
1/2 CUP
1 CUP
2 CUPS
Estimated cups per bag: 6lb bag = 10 cups, 24lb bag = 40 cups, 50lb bag= 85 cups
Download product instruction sheet