Added to Cart
Product Title
Variant Title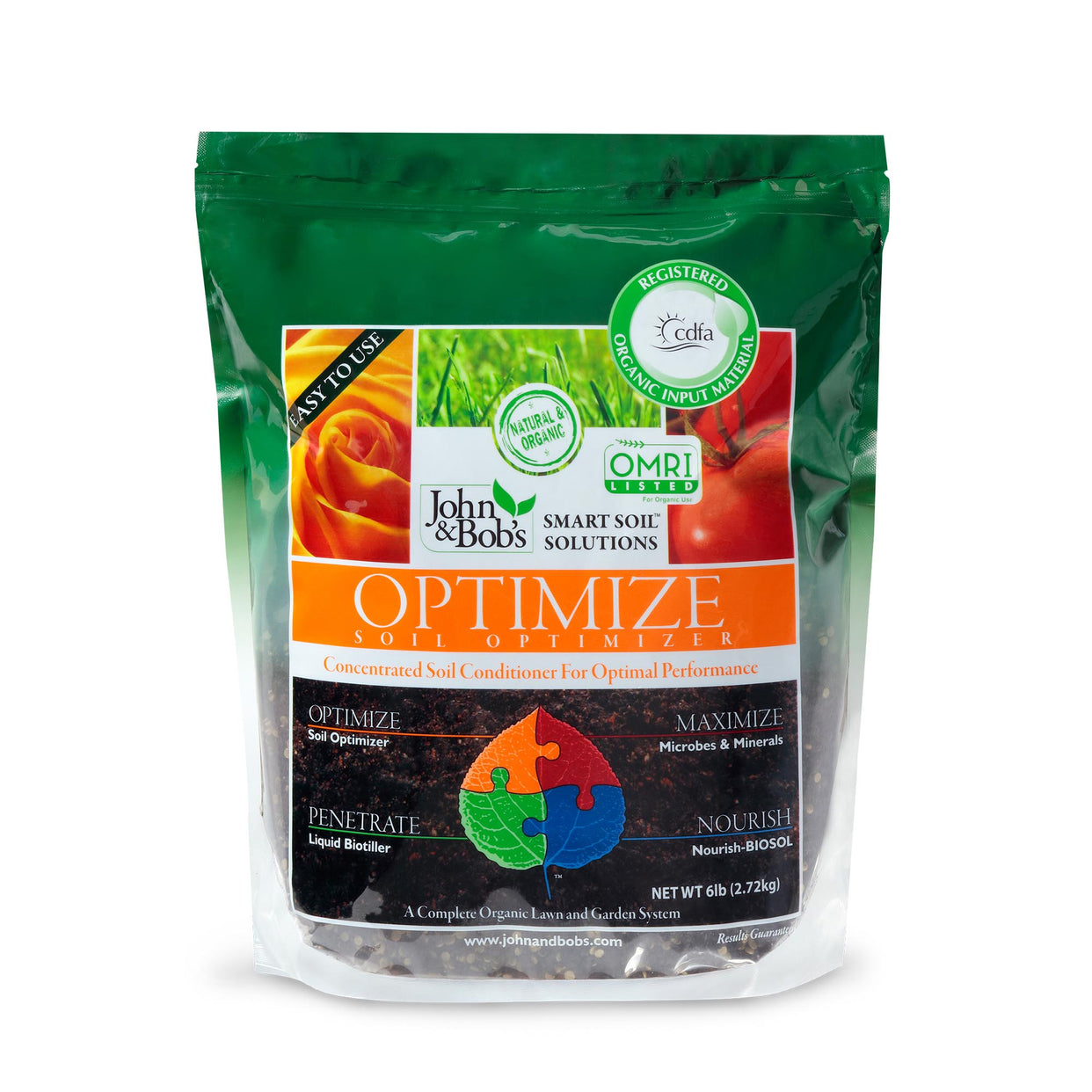 Optimize
Concentrated organic humate soil conditioner
Optimize is a concentrated organic humate soil conditioner that improves poor soil and increases fertility and vitality with organic matter. It begins working as soon as it's added into the soil, and continues to release nutrients and enrich the soil over time. Optimize adds concentrated, fully decomposed organic matter (true humus) to create the soil environment for all plants to thrive.
Specifications
Size/Coverage:
3 lbs. (1,000 sq. ft.)
6 lbs. (2,000 sq. ft.)
12 lbs. (4,000 sq. ft.)
42 lbs. (14,000 sq. ft.)
Details:
Feeds plants and beneficial microbes
Contains fully decomposed humus
Combats hard, clay soil and acts as conditioner
Contains humic acid mined in New Mexico, USA
Contains organic calcium and iron that balance the pH of soil
Ingredients:
14% Humic Acid from Leonardite (as per State of Ca. humic acid definition) .78% Iron
Download SDS Sheet
Application
Broadcast over soil or lawns by hand or any rotary spreader, water into the soil. Apply twice a year.
Mix all three dry products (MAXIMIZE, OPTIMIZE, and NOURISH) together, right before applying, for easier distribution.
For faster results, thoroughly wet the soil after application.
John & Bob's will never burn plants and will not harm the soil if over-applied.
All our soil products can be applied right on top of mulch and existing plants.
6 Tablespoons for a vegetable start or small indoor or outdoor plant.
PER SMALL PLANT OR START
PER YOUNG TREE OR SHRUB
PER LARGE TREE OR SHRUB
PER 180 SQ FT
1/8 CUP
1/4 CUP
1/2 CUP
1 CUP
Estimated cups per bag: 3lb bag= 5 cups, 6lb bag = 10 cups, 12lb bag = 20 cups, 42lb bag = 70 cups
Download product instruction sheet