Added to Cart
Product Title
Variant Title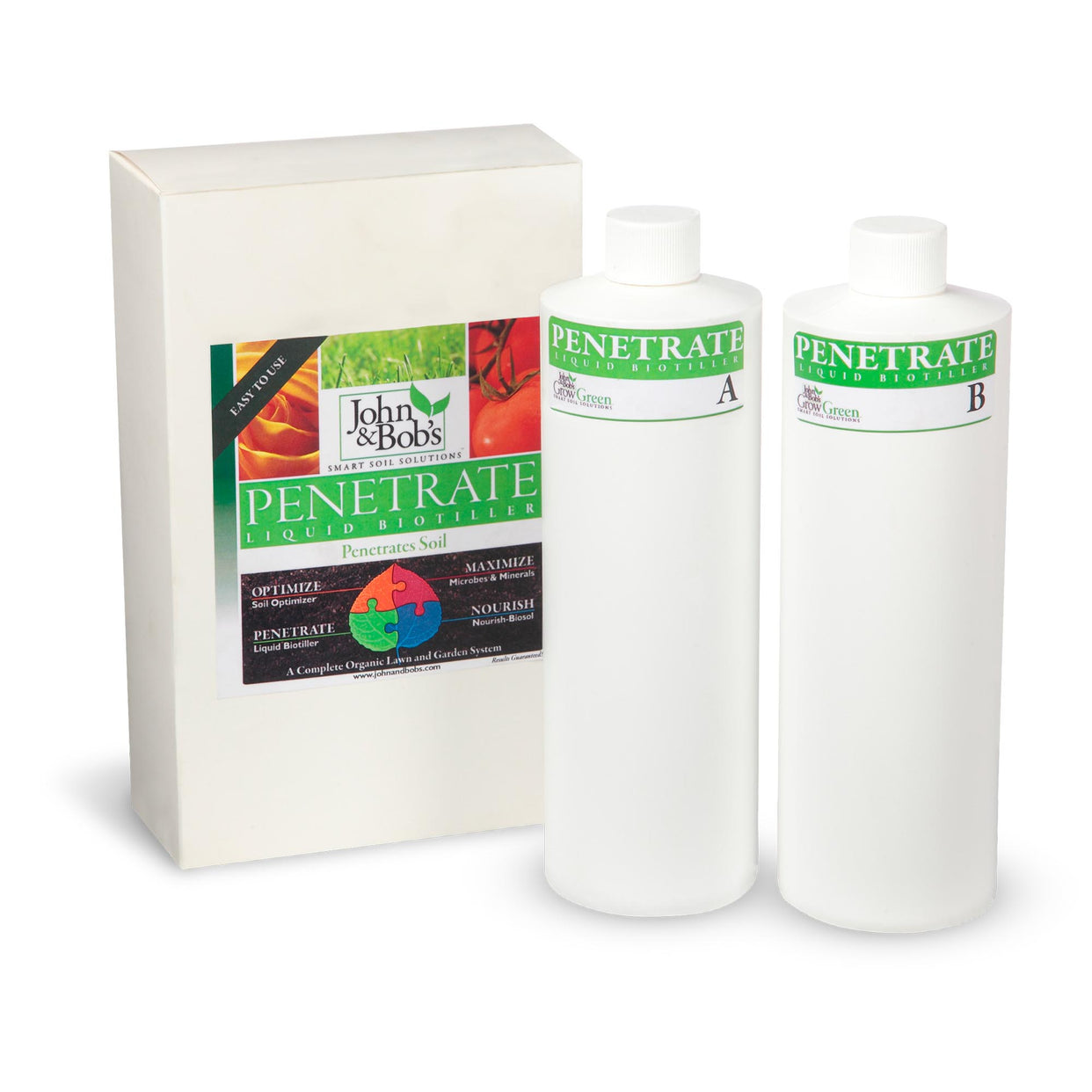 Penetrate
Effective treatment for clay soils.
Penetrate is an organic liquid bio-tiller that contains powerful ingredients that work together to break up hard, clay soils. It works as a lawn aerator and a clay soil treatment. The live bacteria and other ingredients work together to break apart hard soil and allow air and moisture to circulate to plant roots. It improves drainage and turns hard clay into dark, crumbly soil that is easy to work with.
Specifications
Size/Coverage:
8 oz. (1,000 sq. ft.)
32 oz. (4,000 sq. ft.)
Details:
Comes in two bottles that mix together to become active
Breaks down nutrients for plants
Enlivens dormant bacteria
Breaks up the hardest clay or compacted soil
Ingredients:
PART A: 150 million colony forming units of beneficial bacteria per milliliter
PART B: 25% Kelp, 3% Saponin extract from Yucca
Download SDS Sheet
Application
Sprayer: Mix equal amounts of Part A and Part B in a clean, standard hose-end sprayer or backpack sprayer and mix with water using 4oz 'A' and 4 oz 'B' in at least 1 gallon water. More water can be used as long as the 8 total ounces is applied over 1,000 sq ft. Spray evenly over the soil or existing lawn and garden. Continue to spray until all product is flushed from sprayer. Product is also beneficial to all leaves and plant parts. Rinse sprayer when finished and leave top off to dry.
Watering can: Mix equal amounts of Part A and Part B, applying, at least, 8oz per 1,000 sq ft in 1 gallon of water and sprinkle or drench over desired area. Cannot over apply.
Download product instruction sheet