Added to Cart
Product Title
Variant Title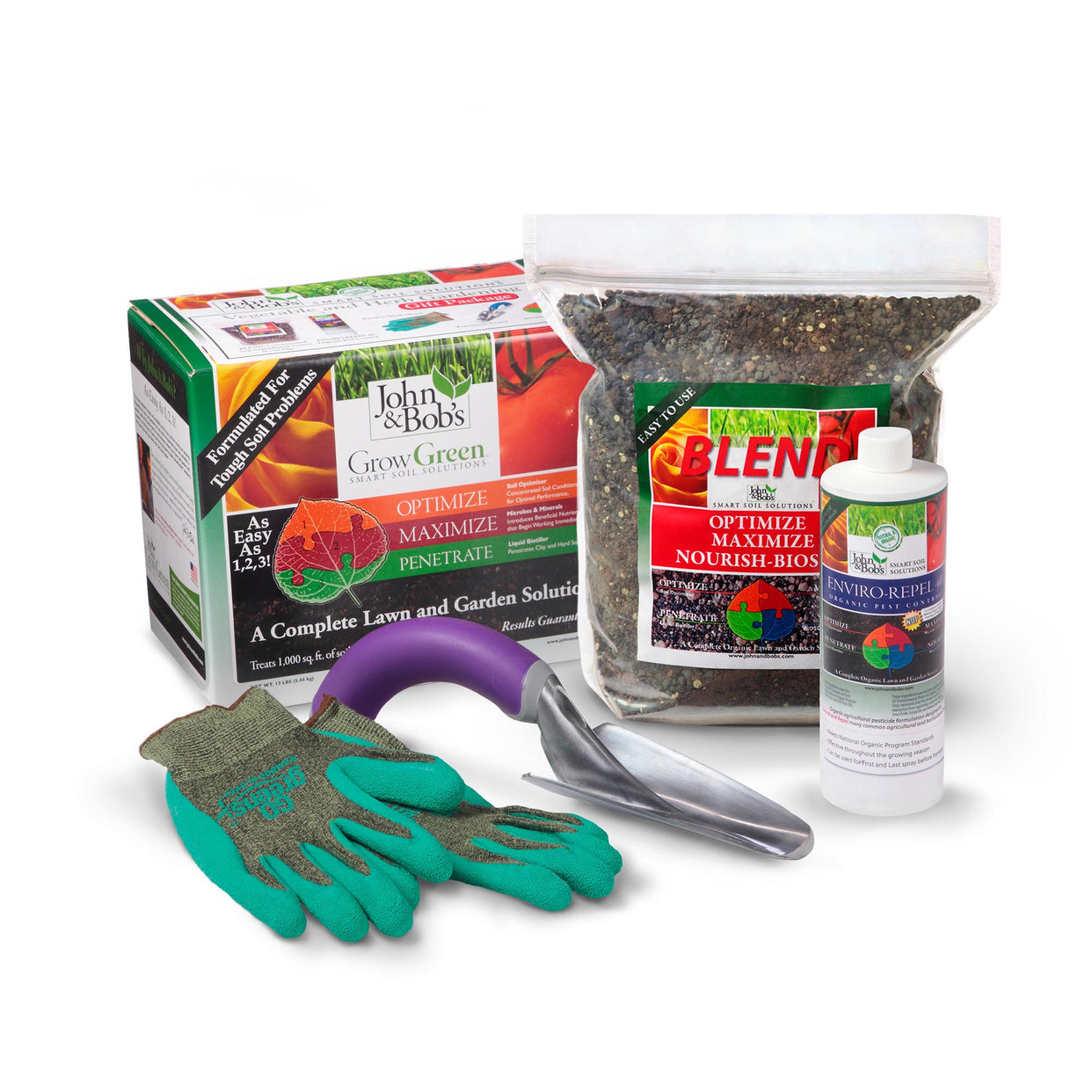 Vegetable & Herb Gardening Gift Pack
Our Vegetable & Herb Gardening Gift Pack is the perfect gift for beginning or experienced gardeners.
Each gift pack contains John and Bob's specially packed products to help improve, nurture and sustain vegetable and herb health. Ergonomic gardening trowel and bamboo work gloves included.
Specifications
Size/Coverage:
6 lbs. BLEND (350 sq. ft.)
16 oz. Enviro-Repel (makes 8 gallons)
1 Ergonomic Gardening Trowel
1 (S/M, L) Bamboo Work Gloves
Details:
Blend: Combined Optimize, Maximize & Nourish to boost soil improvement
Enviro-Repel 40: Organic pesticide and repellent
Ergonomic Gardening Trowel: Features a patented ergonomic grip and provides more leverage with less wrist stress.
Bamboo Work Gloves: Contain anti-bacterial and anti-fungal agents that all for a more hygienic and fresh-smelling glove
Ingredients:
Blend
14% Humic Acid from Leonardite (as per State of Ca. humic acid definition) .78% Iron
Derived from fermentation of Soybean meal, cottonseed meal, sulfate of Potash magnesia.
1.9% Calcium, .33% Magnesium and .46% Iron from naturally occurring Wollastonite, Basalt and Granite.
Trace amounts of the following minerals from naturally occurring Basalt and Granite: Copper, Zinc, Boron, Cadmium, Molybdenum, Nickel, Selenium.
Beneficial Aerobic Soil Bacteria: 150 micrograms per milliliter.
Beneficial Soil Protozoa: 4,000 per gram.
Beneficial Soil Fungi: 230 micrograms per milliliter.
Beneficial Fungal Mycorrhizae:

Glomus aggregatum: 154 propagules/lb*
Glomus mosseae: 150 propagules/lb*
Glomus intraradices: 156 propagules/lb*
Glomus etunicatum: 152 propagules/lb *
Enviro-Repel 40
Garlic Oil- 23%
Sesame Oil- 5%
Oil of Cinnamon Leaf- 1%
Clove Oil- .5%
Other Ingredients:
Citric Acid
Humic Acid (from Leonardite)
Lecithin
Water- 70.5%
Application
Blend: Apply topically at 6 lbs per 350 sq ft with a whirlybird spreader or by hand
Use Blend as soon as possible upon receiving the product. The blended product will form a harmless mold after 60 days and begin to lose its viability.
Enviro-Repel 40: Shake well before using. Use 100oz of Enviro-Repel 40 mixed with 50 gallons of water per acre or 2oz per gallon for small tank sprayers.
Spray solutions should be used within 8 hours of mixing. Spray until plant surface is wet but not to runoff. Apply when insects are first noticed or when anticipated. May require repeat applications after 14 days. Store in a cool dry place, away from sunlight. Store between 40 and 95 degrees.